4 Tips to Welcoming New Students With Disabilities to Your School
The beginning of the school year can be an exciting and stressful time for both educators and students. 
For some students, they are continuing on at the same school, in the same building, with many of the same peers, and maybe even with the same teacher. For students moving from other states or from other schools within the same state, everything may feel new. 
For students with disabilities who are new to a school, it is especially important that the school is welcoming and ready to meet the needs of the students. 
Here are four tips to welcome new students and set everyone up for success:
1. Make sure you have the most recent Evaluation Report and Individualized Education Program (IEP) paperwork.
It is essential that the new school has the information they need to understand the unique needs of the student as well as what programming will need to be provided to the student for them to receive a free appropriate public education, or FAPE. 
If your school does not already have the paperwork, it may need to be requested from the previous district. Follow your district policy for making this request. Know that depending on the student information system used by the previous district, the formatting of the documents may not match what you are used to, but they will still have the information you need to support the student. 
If the student is transferring from a different state, it needs to be determined if the student meets eligibility for your State's requirements and if the information available is sufficient or if a comprehensive evaluation needs to be conducted. 
2. Hold an Intake or Localization Meeting to discuss how the student's programming will be addressed at the new school.
Although the new school has the same responsibility to provide appropriate programming to a student, this may look a little different depending on a variety of factors. For instance, if the previous school operated on a trimester schedule and the new one operates on a quarterly schedule, then the progress reporting frequency will go from three times a year to four times a year. 
Or if the length of the classes are different, for example, from regular to block scheduling, the service minutes or frequencies might change to maintain the student's least restrictive environment. 
To discuss all of the adjustments that will be made to a student's programming, it is best practice to hold an intake or localization meeting where they can be discussed by the team.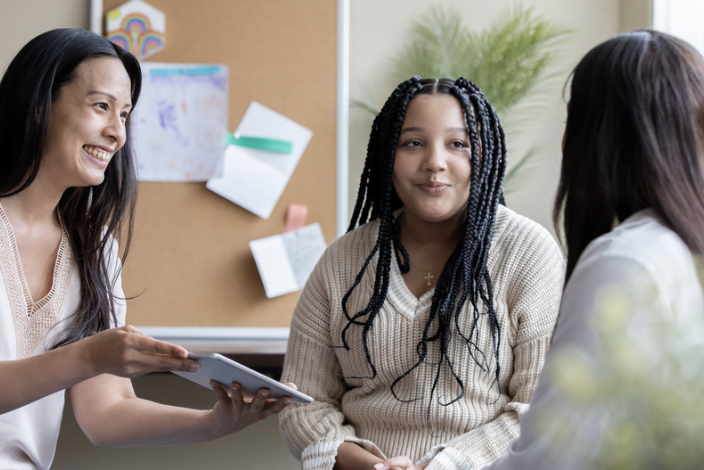 3. Establish open communication. 
Effective communication with parents, guardians, and even previous educators is key. Engage in proactive discussions to better understand the student's strengths, challenges, triggers, and successful intervention strategies. 
Gathering this knowledge will help you daily your teaching approach appropriately, start to build relationships with parents or guardians, and set the student up for success.
4. Foster an inclusive environment. 
Foster a sense of belonging and acceptance within the school and classrooms. Encourage students to celebrate diversity and respect one another's unique abilities. Integrate team-building activities and inclusive teaching practices to create an environment where everyone feels valued, understood, and supported.
Help support your students with Creatively Focused 
While you are thinking about how to welcome new students to your school, Creatively Focused is thinking about how to support YOU! 
To make your intake or localization meetings run smoothly, ensure they capture all of the core components of programming, and save you time, we want to offer you an Intake Meeting Agenda. 
Have a wonderful 2023/2024 school year! 
Here is your FREE RESOURCE: Intake Meeting Agenda and a video to learn more about Intake Meetings!
Written by Kalin Schoephoerster, Instructional Designer & Licensed Special Education Teacher